30+ Top Youth Football training academies in Texas
The Texas states produce the most high level football talent in the country. Many young players make their dreams to become a professional, but only a few will make it to the next level. It's important to start on your journey to greatness early and work with great stadiums that will help improve your game and attract attention in the process.
In American football contact is often violent and power is crucial, proper training can help with performance and to protect the body. Physical development can also enhance physical power in sports. With flexibility training, the athletic range of motion is increased and the musculoskeletal system is enhanced and able to absorb or recover from violent contact.
The state of Texas offers a number of Football-specific training facilities and programs offering services including age-specific talent identification, evaluation, rehabilitation, remote coaching and more. Texas has plenty of unique and specialized options for youth athletes to improve their performance in the field.  
Here are 30 facilities in the Texas area that can help you advance your skills into high level football.
The Hidden Gym, 109 N Greenville Ave STE A, Allen, TX 75002, United States
About:
Tackle Smart Sports is a leading Tackle & Flag football academy in Dallas, Texas. Our training sessions are tailored to players of all levels: youth, high school, collegiate and NFL athletes. Tackle Smart Sports provides the best in quality training and instruction to students of all levels.
Tackle smart was founded by Roger Wilson. Roger Wilson is a former professional rugby union player with over 350 professional games throughout his 15-year career. 
TackleSmart founded by the need to create a safer emphasis around tackling in football. With TackleSmart, they not only address the tackle itself, but combine it with the sport's scientific knowledge to improve athleticism needed to make up all the components of an effective tackle. This will ultimately help make America's great sport less risky for everyone and more enjoyable at all levels!
Instagram Feed
Training Session
9135 Katy Fwy #208, Houston, TX 77024, United States
In the last 10 years, Keith Blackmon has taken what he learned from his coaching career and created several successful football training businesses in Houston.
KB3 Football Training uses experience and professional training to offer private and group football lessons, camps at all levels, and a specialization for lineman, receivers, and quarterbacks.
3. 4th & Inches Sports Performance
3151 Skylane Dr #104, Carrollton, TX 75006, United States
Monday to Friday 7 AM to 7 PM
http://www.4th-and-inches.com/
4th & Inches Sports Performance offer specialists for youth, high school players, collegiate players, and professional players, we also offer Football Fit for the busy professional who would still like to get a similar training experience. Their space has grown from less than 2000 square feet to over 7500 square feet with 35 yards of indoor turf that remains even in the seasons!
Their facility offers the latest in training equipment and services to help prepare athletes like you for the NFL Combine and Pro Day. 4th & Inches Sports Performance is located in Carrollton, TX. You can find our full list of capabilities on our website
4th & Inches Sports Performance offers NFL combine training to prepare high school and college athletes for their Pro Day. The training is completely football-specific, being the only facility in Dallas/Fort Worth that caters to football athletes. Along with training professional and elite players during the off season, they also work with high school and youth teams to improve performance and increase the likelihood that young players will get noticed by recruiters.
4. Game On Sports Complex
2600 Alemeda St, Fort Worth, TX 76108, United States
Monday to Friday 8 AM to 10 Pm
Saturday And Sunday 11 Am to 7 Pm
http://www.4th-and-inches.com/
Game On believes in tapping into the power of potential and serves athletes of all ages and abilities. who are committed to a mindset of growth.
With 184,000 square feet of space for sport training, Game On is the largest in North Texas. A combination of state-of-the-art facilities and a large individual performance training center, it offers an extensive home to the following sports: volleyball, basketball, baseball, football, softball and indoor soccer.
In Forth Worth, Game On Sports Complex offers different levels of training for athletes of all experience. Advanced players are not held back from beginner or hobby players. They also offer camps led by former NFL players with more than 20 years of experience in football so that athletes can prepare for their futures.
Tackle Smart Sports – Top Football Training Facility In Allen Texas
Address:
1224 N US Hwy 377 Ste 303, Roanoke, TX 76262, United States
http://www.rrqbtraining.com/
With a gruelling faith, hard work, dedication and unabashedly competitive attitude, Ryan was able to see his dreams come true by playing quarterback at a collegiate level. Ryan wants to use this football experience and coaching ability that comes from being a high school and college level quarterback himself so he can pass his knowledge on to young, aspiring QBs.
He Offers private quarterback lessons and seven-on-seven football leagues, in Fort Worth Keller, RRQB Training focuses on youth football players and their needs as they specialize in middle school and high school.
6. Only The Elite: Athletic Performance Training
Address:
6696 Tri County Pkwy #200, Schertz, TX 78154, United States
Timing-
Monday to Saturday 5.30 Am to 8 Pm
Website –
http://www.onlytheelite.org/
About –
OTE is a training center in the northern San Antonio area with equipment highly specialized to support their clients. OTE can meet the needs of clients with their current technological equipment and evidence-based research to design and implement results-oriented programs that incorporate the needs of the athletes.
Performance Training offers high-quality training programs designed specifically for the needs of football players. These programs are created by analyzing the strengths and weaknesses of individual athletes to improve their performance levels. They take in some of the best athletes in the area then use top notch equipment to train them.
Athletes with these qualities have a long and successful athletic career. Their goal is to play at the next level, as well as set new standards.
Address:
9525 E 51st St Suite H, Tulsa, OK 74145, United States
Timing-
Monday to Saturday 5.30 Am to 8 Pm
Website –
www.nextlevelathleticsusa.com
About –
Athletes will be faster and stronger with next level athletics' sport performance training. Next Level Athletics trains athletes so that they are faster, more powerful, and more explosive than their competitors.
What it takes to go pro
Next Level Athletics features a HIIT format that ranges from traditional to modern techniques, pushing you to the limits. It does not involve waiting around, as there is no time for rest with this workout! Test your abilities and become a peak athlete at Next Level Athletics!
Learn how to track progress with Next Level Athletics
Next Level Athletics offers a 360 degree approach to fitness testing that makes it easy for you to see how good or bad your performance is. They offer a variety of tests and assessments that can be done with high-tech equipment or your own body, so there's no limitations on the level you play at.
Next Level Athletics – A Pro Athlete's Guide to Success
A premier facility that caters to the business of recreational sports in an age bracket, Level Athletics is a 15,000 square foot state of the art training center. Football Development Programs will teach players to unleash their instincts on defense and make great plays on offense. Featuring various challenging levels for youngsters and adults, Level Athletics targets sports performance at a higher level from the get-go.
8.BreakAway Speed Sports Training
Address:
1706, 8715 W Loop S suite e, Houston, TX 77096, United States
Timing-
Monday to Saturday 9 AM to 9 PM
Website –
Home
About –
BreakAway has established itself as an industry leader in sports performance. From athletes and executives with a youthful passion for health, BreakAway provides training and medical services to anyone regardless of age, sport or skill level.
BreakAway's mission is to develop character, values and self-esteem in children. BreakAway is proud to provide a good service for the community.
BreakAway Speed understands that most athletes are unable to train on their own, and so they have a goal of educating young athletes so they can use what they learn, wherever they play. The motto for BreakAway Speed is "Champions are built through practice" and so their goal is to educate young athletes so they can put what they learn into practice.
9. Genesis Athletic Performance
Address:
20220 Hempstead Rd Ste 11, Houston, TX 77065, United States
Timing-
Monday to Saturday 5 AM to 9 PM
Website –
www.genesisstrength.com
About –
Genesis Fitness & Performance is the premier sports performance training facility. Our gym can be found in the North West Houston, Cypress area for athletes who want to peak their performance and also for clients who live in the surrounding communities and want to improve their health and lifestyle.
You will not find rows of stationary bikes and weight machines at Genesis Fitness & Performance, but instead you will find pull-up bars, kettlebells, bars and open space for squatting, jumping, running, climbing and lifting. The emphasis is placed on your body's natural movements.
10.Plex
Address:
15250 Hillcroft Ave, Missouri City, TX 77489, United States
Timing:
Monday to Saturday 8 AM to 7 PM
Website:
www.plexathlete.com
About:
Plex is the leading expert in personal performance, creating innovative solutions that help individuals of all ages, sports, and skill levels. They over seventeen years of experience and a proven record of success, Plex's programs have helped to train thousands of athletes across all fields and levels.
Knowledgeable and nationally recognized staff of performance specialists, chiropractors, athletic trainers, doctors, Gyrotonic instructors, and former collegiate and professional athletes in mind, Plex has a whole range of services designed to help you improve your overall health. With modules designed for all aspects of sports performance, including physical therapy and injury rehabilitation, excercise physiology, nutrition science and psychology as well as business knowledge to help with mental stress while benefiting from the wholsesale physical benefits as well.
The Plex team of sports coaches and socauthors have worked with athletes like Andrew Luck, CJ Anderson, Antwon Blake, and Andy Dalton, to name a few. Their clients include those athletes in football, soccer, Olympics and more.
11. Michael Johnson Performance
Address:
6051 Alma Rd, McKinney, TX 75070, United States
Timing:
Monday To Friday 8Am to 8 Pm
Website:
Homepage
About:
At Michael Johnson Performance®, They obsess over instruction and training. They take decades of research and analyze it for the best methods that drive human performance. With our testing of the newest trainers and knowledge of proven methods, we are able to combine them to produce results in your sport. They have a simple belief that every single individual's athletic ability should be complemented with a personalized program that will help them reach only their potential.
Michael Johnson Performance offers complete off season and in season training for players. They also offer nutritional and biochemical support for athletes to be ready in all aspects of their life. Apart from this They offer remote coaching service for sports teams or players from rural areas.
12.APEC
Address:
1543 E Grande Blvd, Tyler, TX 75703, United States
Timing:
Monday to Friday 6 AM to 8.30 PM
Website:
https://www.teamapec.com/
About:
The APEC is focused on the areas of human performance in order to improve life, protect futures and educate.
The original company, APEC (Athlete Performance Enhancement Center), was founded in 2005 on a grass parking lot in Tyler, Texas
APEC provides elite training services, has a vast array of sporting goods to meet any need, and offers a well-rounded fitness program.
They've worked with Josh Aubrey of the Tennessee Titans, Graham Harrell of the Green Bay Packers and Jameill Showers of the Dallas Cowboys. Their student programs are divided into K-2, 3-5 grade, middle school, high school and college.
13.DX3 Athlete
Address:
10401 Clarence Dr #100, Frisco, TX 75033, United States
Timing:
Monday to Thursday 3PM to 9 PM
Saturday 8.30 Am to 1 Pm
Website:
http://www.dx3athlete.com/
About:
DX3 Athlete is located 45 minutes away from Dallas in Frisco. They offer physical and mental training for year-round athletes who need to maintain their fitness and skills during the off season. They are dedicated to developing a lifelong passion of fitness within all their students.
14.MVP Performance
Address:
Multiple Sites San Antonio, TX, US 78212
Timing:
Monday- Friday 5:00 am – 9:00 pm
Saturday 7:00 am – 6:00 pm
Website:
https://www.mvpperformance.org/
About:
MVP PERFORMANCE is a training program with multiple locations in Texas. The training is designed for athletes of all ages and abilities, and results are guaranteed. Discover the MVP Difference by trying out our program.
MVP Performance, the company behind "training for life", was created in the intention of developing leaders and empowering athletes. The company has many levels of development beginning with elementary school students, who are taught basic agility, flexibility, and eye-hand coordination. As young athletes advance to middle-school or high-school aged students, they learn how to properly lift weights and run efficiently. For college student athletes who want to take their training to the next level through a custom program personalized to their needs as a player MVP Performance offers them a rigorous training system.
15. NorthStar Sports
Address:
66 Page Park Dr, Poughkeepsie, NY 12603, United States
Timing:
Monday to Saturday 5 AM to 7.30 Pm
Website:
http://nssportstraining.com/
About:
NorthStar Sports has facilities in San Antonio and Poughkeepsie, New York. They prefer to work with youth athletes to provide a positive training experience and ensure they develop lifelong positive habits. They also have high school and college training programs. Check their website for a list for football alumni who have signed with colleges across the country.
16.1up sports performance
Address:
2000 Windy Terrace #10, Cedar Park, TX 78613, United States
Timing:
Monday to Friday 6 Am to 8 Pm
Saturday 7.30 Am to 2.30 Pm
Website:
http://www.1upsport.com/
About:
1Up Sports Performance is located about 30 minutes from downtown Austin, and their training is specialized to your particular skill level. They will map out a plan for improving your performance. 1Up also offers football camps on specific positions.
17. Austin Sports Academy
Address:
275 Lotus Cir, Austin, TX 78737, United States
Website:
http://www.austinsportsacademy.com/
About:
With an impressive list of alumni including some NFL players, the Austin Sports Academy trains athletes from multiple sports to prepare them for college recruiting. They offer private football training in both one-on-one and group settings. Advanced athletes won't be held back.
Austin Sports Academy is an enterprise that brings together the skills, knowledge, and experience of coaches with national and local scale. The Academy aims to provide more training opportunities for children and adults at all levels so as to help them engage in a healthy lifestyle with a sense of self-confidence.
18. Outright Fitness & Performance
Address:
15508 Bratton Ln #625, Austin, TX 78728, United States
Timing:
Open 24 Hrs
Website:
Home
About:
Along with Their tailored programs, Outright Fitness & Performance want to help athletes develop sport specific strength, power, speed, work ethic and mindset. Commit to this program and you WILL get BETTER, period.
Outright Fitness & Performance offers both indoor and outdoor training, so players can practice their game on the field or court, no matter where they are. They offer discounts for teams, group, and individual training sessions, whether it's in person or not. Outright will work with you no matter your level to improve your performance.
19. 3D Athletics
Address:
6596 Montana Avenue, Suite J El Paso, TX 79925​
Website:
www.3dathletics.net
About:
With 3D Athletics, you can learn how to improve your agility, strength and speed with baseball and softball players. The facility also offers training for track, basketball and football players looking to improve on their fundamentals. They do not offer group or open engagements. Training is by appointment only.
20.Air It Out Football Camps
Address:
3341 South 10th St. Abilene, TX 79605
Timing:
Monday To Friday 7 Am to 4.30 Pm
Website:
Home
About:
Air It Out Passing Camp provides instruction for young athletes for the sport of football. The football camp not only focuses on the skills necessary to be successful in the sport, but also faith and character development, drug and alcohol awareness that will help these young athletes achieve success both on and off the field.
21.Sportskind HOU
Address:
2315 Commerce St Houston, TX 77002
Timing:
Monday To Sunday 10 Pm To 10 Pm
Website:
Home
About:
SPORTSKIND was inspired by the experiences of longtime teammates in sports and their vision for better sports experiences, celebrating the competitive spirit and developing a social community and culture around team sports
With the help of experienced sports team members, SPORTSKIND was created to develop a social community, as well as culture around team sports.
In the past few years, They've expanded into new sports, new venues, and new cities.
22. Gridiron Football
Address:
415 S Kimball Ave, Southlake, TX 76092, United States
Timing:
Open 24 hrs
Website:
Home
About:
Gridiron Football believe in empowering every child that attends one of their camps and events to achieve the best possible outcomes, both on and off the field. Their program is focused on providing a fun and safe environment that engages children and their families as they work towards teaching them lifelong skills, which will provide memories they turn into lifetime gifts.
23. Sportsmonkey
Address:
2020 Rusk St Houston, TX 77003
Timing:
Monday To Friday 12 Pm to 5 Pm
Website:
Home Page
About:
Sportsmonkey is Houston's largest recreational sports and social club. It offers softball, flag football, basketball, soccer, kickball and other local leagues to young professionals.
Also Sportsmonkey has partner with sponsors, who will be giving away food or beverage during the game.
Sportsmonkey is also known for its happy hours, group outings, vacations, tournaments and special events. Sportsmonkey has had New Year's Eve parties, annual ski and beach trips, charity kickball tournaments, among many others.
24. i9 Sports
Address:
3919 Liberty Dr Pearland, TX 77581
Timing:
Monday To Friday 3 Pm To 8 Pm
Website:
https://www.i9sports.com/
About:
i9 sports youth flag football programs are perfect for families who want their young athletes to learn a safe and non-violent sport by playing a game that can be enjoyed in the backyard.
"i9 Sports is proud to raise awareness on safety issues in youth sports," i9 Sports CEO Brian Sanders said. "Flag football became a popular choice for parents across the country due to there being less risk of injuries, especially from tackle football."
As of now, i9 has partnered with USA Football in order to provide the best youth sports experience to our athletes and customers.
25. Houston Sports & Social Club
Address:
6633 Portwest Dr Ste 100 Houston, TX 77024
Timing:
Monday To Friday 9.30 Am To 6.30 Pm
Website:
https://www.houstonssc.com/
About:
The Houston Sports & Social Club is a place where you can enjoy a variety of co-ed sports leagues and tournaments as well as a wide variety of social activities. The main goal is to have fun!
Houston Sports enjoy new, creative ways to have fun and we don't limit our offering to conventional sports and social activities.
26. Lone Star Sports and Social Club
Address:
6818 Shadyvilla Ln Houston, TX 77055
Timing:
Monday To Friday 9 Am To 5 Pm
Website:
www.lonestarssc.com
About:
To enjoy flag football which is an indoor game, put on your cleats, purchase a strip of eye black (just for looks), and join nearly 500 other adults and children playing with LoneStar Sports & Social Club. Every week is filled with touchdowns, end zone dances and new friends and happy hour follows every game night. The party continues very late into the night.
27. Game On Arena Sports
Address:
251 Settlement Plaza Dr, Fort Worth, TX 76108, United States
Timing:
Monday to Friday 9.30 Am to 12 am
Saturday And Sunday 9 Am to 9 Pm
Website:
Home
About:
Game On believes in tapping into the power of potential and is the only facility serving athletes who are committed to a mindset of growth. The facility aims to support all age-groups, including professional athletes, by providing them with a holistic approach towards their sport and it's mental health, physical ability and character development.
The Game On Sports Complex and Game On Arena Sports is North Texas' largest multi-sport center covering 190,000 square feet of training and competition space.
Combining state-of-the-art facilities and our world-class training center, we offer a home for volleyball, basketball, baseball, football, soccer, and softball. We are open to teams of all ages.
28. Diamond Football Academy
Timing:
Monday to Friday 9 AM to 9 Pm
Website:
https://www.diamondfootballacademy.org/
About:
Diamond Football Academy was found to offer students opportunities to grow as individuals, athletes and learn life lessons during the summer. It is their goal to provide education, an opportunity for kids to think about personal responsibility and choices. They also hope that sports will give students life lessons to help them cultivate character and work ethic in addition to other qualities that are important for a college student. In order to cover the non-athletic costs of a year of school they want these same students put in place financially speaking so they can be ready for the scholarship trials at the end of their year of play.
29. Westlake Football Academy
Address:
4300 Westbank Dr, Austin, TX 78746, United States
Timing:
Monday to Friday 9 AM to 9 Pm
Website:
https://www.westlakeacademy.org/
About:
Their mission is to develop athletic talent and to prepare athletes for the next level of competition. They want to maximize physical performance, increase sport-specific intelligence, and train athletes for performance at a higher level.
Several famous athletes attended Westlake Academy and left with a piece of Westlake history.
It is their opinion that physical activities should be integrated with intellectual education to provide students the necessary tools they need to live successful lives.
Students appreciate the support of their parents, community members, student body and staff cheers. We want your help to be involved in the Westlake athletic experience.
30. PPT Elite Football Academy
Timing:
Monday to Friday 9 AM to 9 Pm
Website:
http://www.onlytheelite.org/
About:
PPT Elite is a youth sports organization that provides elite training and helps to build talented athletes.
PPT Elite builds players who are NCAA and professional-level athletes by providing access to elite-level resources usually unavailable in youth athletics. This is accomplished through a dedicated staff of doctors, nutritionists, athletic trainers and counselors. The firm also organizes clinic treatments, expert parents' education services, team college visits and exclusive press/media opportunities for their clients.
Jonathan Alford
2022-06-10
Roger does a great job with the boys on technique and proper form. After about 5-6 lessons, it becomes usual for the kids to make sure their heads aren't in the tackle. I highly recommend TackleSmart .
Roger with Tackle Smart Sports and their team has been exemplary to work with. Honest, trustworthy and reliable! They are great!
Coach Wilson was amazing with our 6th grade tackle team in Mckinney, TX. When he explains tackle techniques he does it in a way that I could not relay to 11 year old kids. I would recommend him to any team or parent that wants to teach kids how to tackle safe. Thanks again coach.
Kari Leguizamo
2021-08-30
Great place!! Coach Roger was professional and worked great with the kids! Highly recommend!!
Great coaching on the general mechanics of tackling. Highest level. A professional teaching environment from start to finish.
Allison Zabbia
2021-03-28
Some of the best training my son has gone through!! Thanks Coach Wilson!!
Roger is great with children and does a phenomenal job coaching them.
Elizabeth Miller
2020-09-22
Roger is wonderful. My son plays hockey, and has been working out with Roger for a year now. I see great improvements in my son's athleticism and skill set. While the workouts with Roger aren't on ice, he finds fun and engaging ways to build strength and coordination that are necessary at this level. More importantly, Roger actually practices checking - both giving and receiving. I now have more confidence as my son moves into Varsity level high school hockey as a 9th grader- where play becomes far more physical. This skill set is rarely taught and practiced in today's team practices.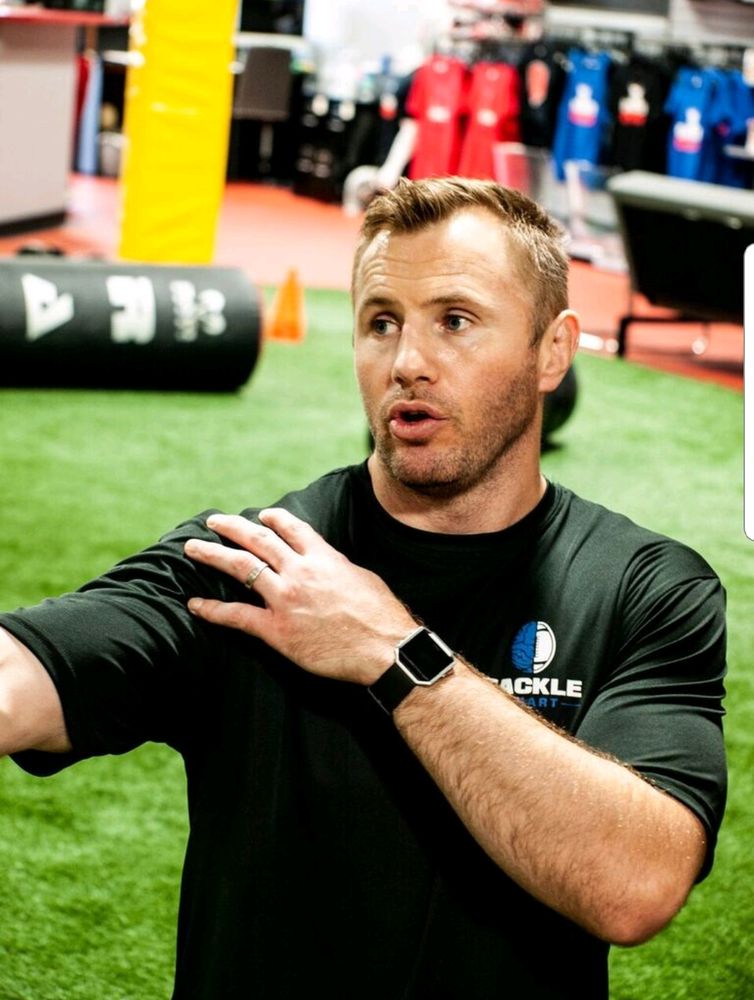 Based on 1 Reviews
Julie H.
2022-06-27 03:02:22
My son loves tackle smart sports because of the quality of the coach Roger Wilson and the personalized training they offer. He was able to progress at a...
Average Review
Reviewer
Last Updated
Rated 5 Star on
30+ TOP YOUTH FOOTBALL TRAINING ACADEMIES IN TEXAS
Academy Rating